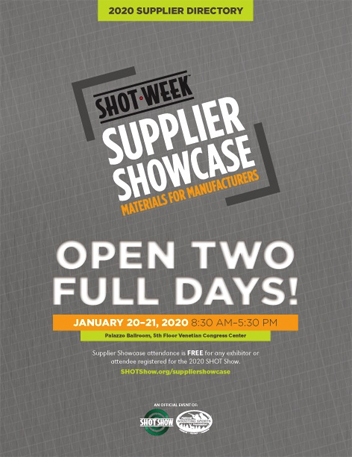 A showcase of material suppliers
The SHOT Week Supplier Showcase is a dedicated event for suppliers to present their products to shooting, hunting and outdoor manufacturers.
If you use or produce tools, machinery, plastics, metal extrusions, fabrics, OE materials, fabrication, logistics, software, or other products and services for the shooting sports or outdoor sporting industries, then SHOT Week's Supplier Showcase is your opportunity to connect with each other at the upcoming SHOT Show.
January 18–19, 2021 8:30 AM–5:30 PM
Palazzo Ballroom, 5th Floor Venetian Hotel Meeting Rooms Las Vegas
Industry Day at the Range™ is the largest, most influential one-day event in the hunting and shooting sports—and it continues to grow. More than 2,000 media members and buyers annually gather at the Boulder Rifle and Pistol Club to test and evaluate the latest introductions from over 200 manufacturers representing every major category in the industry.
Palazzo Ballroom, 5th Floor Venetian Hotel Meeting Rooms Las Vegas